U is for Ugly
I'm
making this Owl cushion from the pattern I bought.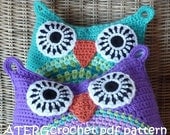 My first attempt was this.
Ugly! Because as I said before I can't always choose colors
So I went to her Etsy shop and studied the pix of the cushions and then I made this.
Ahh!
Much better and so pretty.
Even though this picture doesn't do the colors justice. It's purples and pinks.
Now I can't wait to finish it and see it on my love seat on the porch.