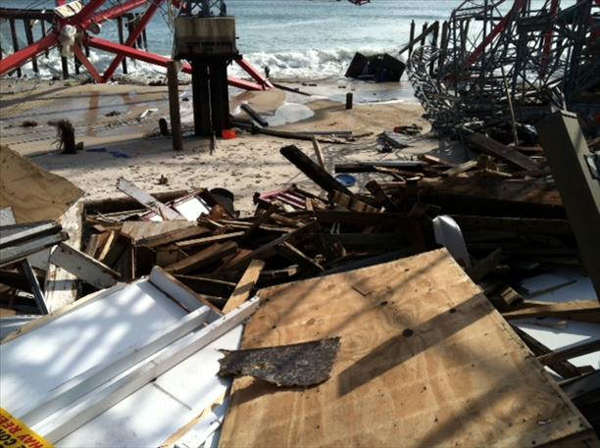 This week I've been dealing with the devastation of Hurricane Sandy. My son and his girlfriend live in Seaside Heights which ended up being the epicenter of the storm The picture above is of the pier where my son's girlfriend works.
So now my son is a refugee and he and his girlfriend are staying with me with no word of when they can return to Seaside. They left behind their clothes, their possessions, and their mementoes. Their lives and their jobs are in upheaval. There are rumors that they may not be able to return to the town for six to nine months!
I live in Pitman NJ and though towns all around me are without power, my town was mercifully spared. We were in the eye of the storm and apparently it's true that it's the safest place to be.
During the storm the one thing that soothed both me and my son's girlfriend was our crocheting. I recently taught her to crochet and she worked on scarves to calm her nerves while the storm raged on. Even in the aftermath, amidst the shock and uncertainity of what will happen next, she continues to crochet to just have a bit of normalcy.
I've been working on Christmas items for my Etsy shop and the counting of the stitches soothes me as we contemplate : "Where do we go from here?"
What do you do so you can "Keep calm and carry on?"